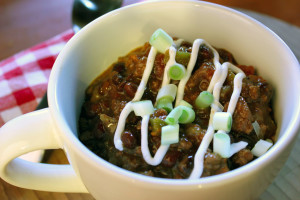 Beef & Espresso Chili with Cayenne Cream
1-1/2 lb. freshly ground lean ground beef from Huntington Meats
4 tsp. extra-virgin olive oil, divided
1-1/2 cups diced yellow onion (about 1 large)
2 green bell peppers, seeded and chopped
1 lb. fresh tomatoes, chopped
1 15-oz. can black beans, drained and rinsed
2 cups low-sodium beef broth
2 Tbsp. instant espresso or coffee granules
2 Tbsp. chili powder
2 tsp. ground cumin
1 Tbsp. organic evaporated cane juice
1-1/4 tsp sea salt
1 cup sour cream
1/8 tsp. ground cayenne pepper, or to taste
2 green onions, finely chopped
In a large, non-stick skillet over medium-high heat, add beef and cook, breaking up with a wooden spoon until browned, about 4 minutes. Transfer to a 4-qt slow-cooker.
In same skillet, heat 1 tsp oil, Add yellow onion and cook for 4 to 5 minutes, until browned. Transfer to slow-cooker and add green peppers, tomatoes, beans, broth, espresso, chili powder and cumin. Stir well, cover and cook on low for 8 hours. (Alternatively, cook on high for 4 hours.) Turn off heat and stir in cane juice, remaining 3 tsp oil and salt.
In a small bowl, combine sour cream and cayenne pepper. Cover and refrigerate until serving. Top chili with sour cream mixture and garnish with green onions.
Servings: 8